Career Day!
---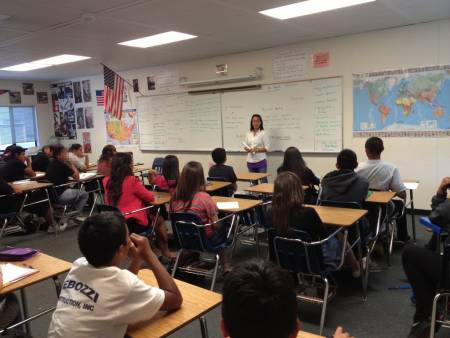 Two weeks ago I spent the afternoon speaking with 100 high school freshmen at Lincoln High School about being a lawyer. It was career day and I had three 58 minute class periods to fill with information about myself and my career. It was a little daunting at first, but the afternoon went by in a flash, with my third and final presentation being the best! Now I'm a pro!
The goal of my presentation was to dispel myths about being an attorney- primarily that we're all robotic suits that make bundles of money and spend all day in court demanding the truth (like this). Instead, I intentionally did not "dress up" and reminded myself to show up wearing flip flops. I was hopeful to instill in the students a more realistic view of the legal profession and to share my perspective about lawyering being more about "counseling" my clients than anything else.
Preparing for career day forced me to reflect on my chosen profession and what it is about being a lawyer that appeals to me. When all is said and done, the bottom line is that I like to help people, and I use law as my vehicle to make small change in people's lives. My clients hire me to help them with a specific legal issue, but I see my role as their attorney reaching beyond just completing the application I was hired to complete. I take seriously the title of "counselor" and do my best to listen to their concerns and connect with them to ensure that I am doing the best I can for each client and addressing their needs. Sometimes this means chatting with a client about what school is like or how their job search is going, and other times it means fielding emails that discuss their love for falafel (all true). Recently a perspective client contacted me, and commented on how she sensed that I genuinely cared about her situation rather than just the income she sensed another attorney was more interested in–this is a reflection of my passion for helping others and I use that passion drive my business.
In addition to sharing my story and my views on lawyering, I also gave the students a couple of pros/cons and tips for anyone considering law school. Someone once told me that lawyers love to talk about themselves, a statement I cannot disagree with, so I won't neglect this opportunity to share some nuggets of wisdom. Pros of being a Lawyer: You have the potential to make a huge impact on someone's life. It's a very flexible career as I am now discovering with my own practice. If you like "to be in the know", you're basically paid to know everyone's business. Cons of being a Lawyer: EVERYONE you know will suddenly have a legal problem they expect you can fix. Law school is expensive. Tips: Don't go to law school unless you genuinely want to be a lawyer- it's not worth it just for the degree. Be open minded about where your career may take you- you never know where you will end up!
If you're considering a career as a lawyer, I'd be happy to chat with you!