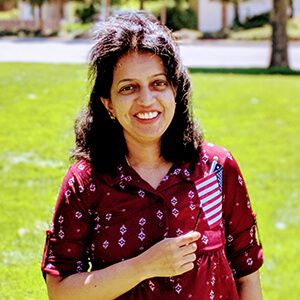 Litha Balakrishnan
Paralegal
Immigration is a passion for me. Being an immigrant myself and having gone through the harrowing and complicated immigration system to become a U.S. Citizen has helped me understand what my clients are dealing with, empathize with them, and support them when they feel frustrated with the immigration system.
Originally from India and armed with a Bachelor's degree in Chemistry and a Post Graduate Diploma in Computer Applications, I started my career in the field of Computers but very soon realized that dealing with people and helping them was my passion. I went on to complete an MBA with a major in Human Resources and a minor in Marketing and worked in both HR and Marketing roles. Much of my career was in HR as I loved the opportunities to help people and really get to know them.

---
"Here to assist you and your family."
---

By chance, while helping my husband with his immigration paperwork, I discovered a real passion for immigration and started studying in earnest about the U.S. immigration system. As time went on, it became clear to me that this is my true calling in life, and launched a second career as an immigration paralegal. My multitasking skills, customer service experience, due diligence, and organization helped me build a strong foundation for a successful career in immigration. I have been working in the immigration field for the past 6+ years with no regrets, enjoying my work to the fullest extent. Work is a passion when you get up excited every morning and ready to work with a smile. That is how I approach every day. Seeing the joy on a client's face or receiving a heartfelt email after we complete the immigration process is so rewarding.
In my free time, I love reading (any books I can get my hands on) and spending time with my family. I am also a milk chocolate connoisseur.

Education
B.S. - University of Kerala

Post Graduate Diploma - University of Kerala

M.B.A. University of Madras

Human Resources and Marketing
Languages
Malayalam - Native Language

Hindi - Conversational