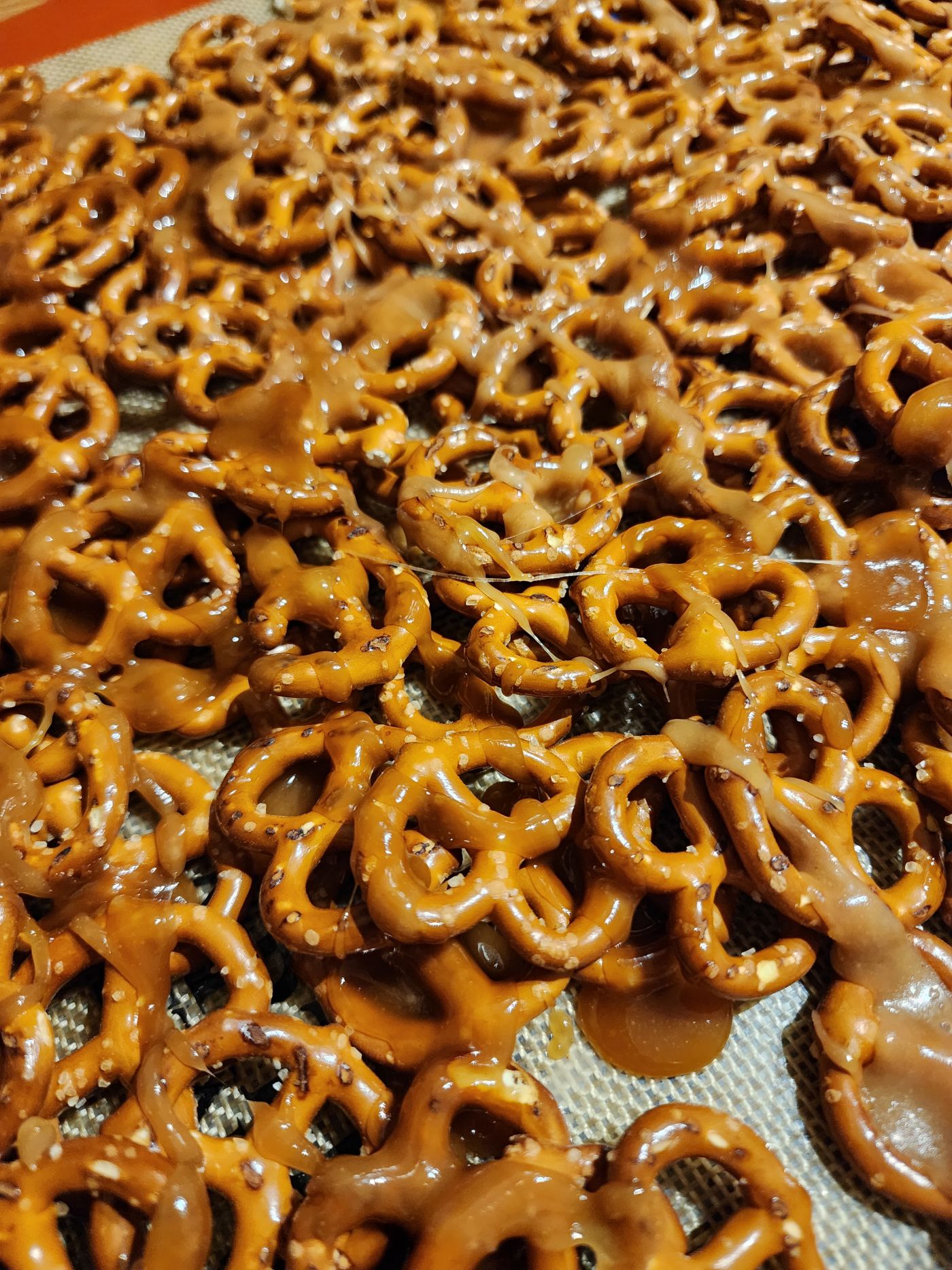 Pyrus Law Boulange's Toffee Pretzel Recipe
---
Why are you reading about toffee pretzels on our law blog? I take pride in the personal touch that Pyrus Law offers our clients and colleagues and that extends to how we show our gratitude. Since I started my practice over a decade ago, I've often sent tokens of appreciation to my colleagues via homemade goods made by Pyrus Law Boulange (har har, I love a good pun). Historically, it was coffee toffee courtesy of an amazing Smitten Kitchen recipe (this is an excellent recipe). Most recently, we've transitioned to toffee pretzels adapting a few recipes to craft my own perfect combination of sweet and salty. I get so many requests for my recipe, I figured it was time to share.
Ingredients:
1/2 cup (1 stick) butter

1/8 cup water

1/2 cup sugar

1 bag of pretzels (Note, I usually use ~1/2 bag of Snyder's family sized pretzels for one recipe)
Directions:
Using a medium sized pot, bring butter to a boil over medium heat. Add water and bring to a boil then add sugar.

Continuously whisk the mixture using a metal whisk until it reaches 308*F. Use a candy thermometer as the temperature cannot be eyeballed.

Arrange pretzels over a silicon mat or parchment paper. Drizzle the toffee mixture over the pretzels and allow to cool completely. Work quickly as the toffee is hard to spread once it cools.

Break into small clusters. Store in a airtight container to enjoy over the next week, if they last that long!
Tips:
Use metal tools as this recipe can and will melt plastic.

I find that spreading out the pretzels in a single or double layer then drizzling the toffee on top is a more effective way to spread the toffee mixture than tossing it in a bowl.

If your toffee comes out grainy, and the butter separates just before reaching the target temperature, the change in temperature was too dramatic (this is what the internet told me). I found that using room temperature butter, and using a larger pot to allow for more effective whisking helped resolve this problem. Do NOT double this recipe.